When are Chromaflow pencils going to be available to purchase?
Derwent Chromaflow pencils will be launched in certain markets in Spring 2021. They will be available first in the US and India.
What are Chromaflow pencils like to use?
Derwent Chromaflow pencils provide artists with an affordable professional quality product which is easy to layer and blend thanks to the richly pigmented smooth texture, providing a velvety laydown.
The strength of core results in less breakage when sharpening and in use, as it can handle pressure well, making the pencil reliable for consistent quality for every project, every time.
What are the key attributes of Chromaflow pencils?
Smooth texture, velvety laydown
Rich blendable vibrant colours
Strong core

Professional quality
What type of artwork are Chromaflow pencils most suitable for?
Chromaflow pencils have been developed to be suitable for a wide range of drawing styles.
What techniques can I use my Chromaflow pencils for?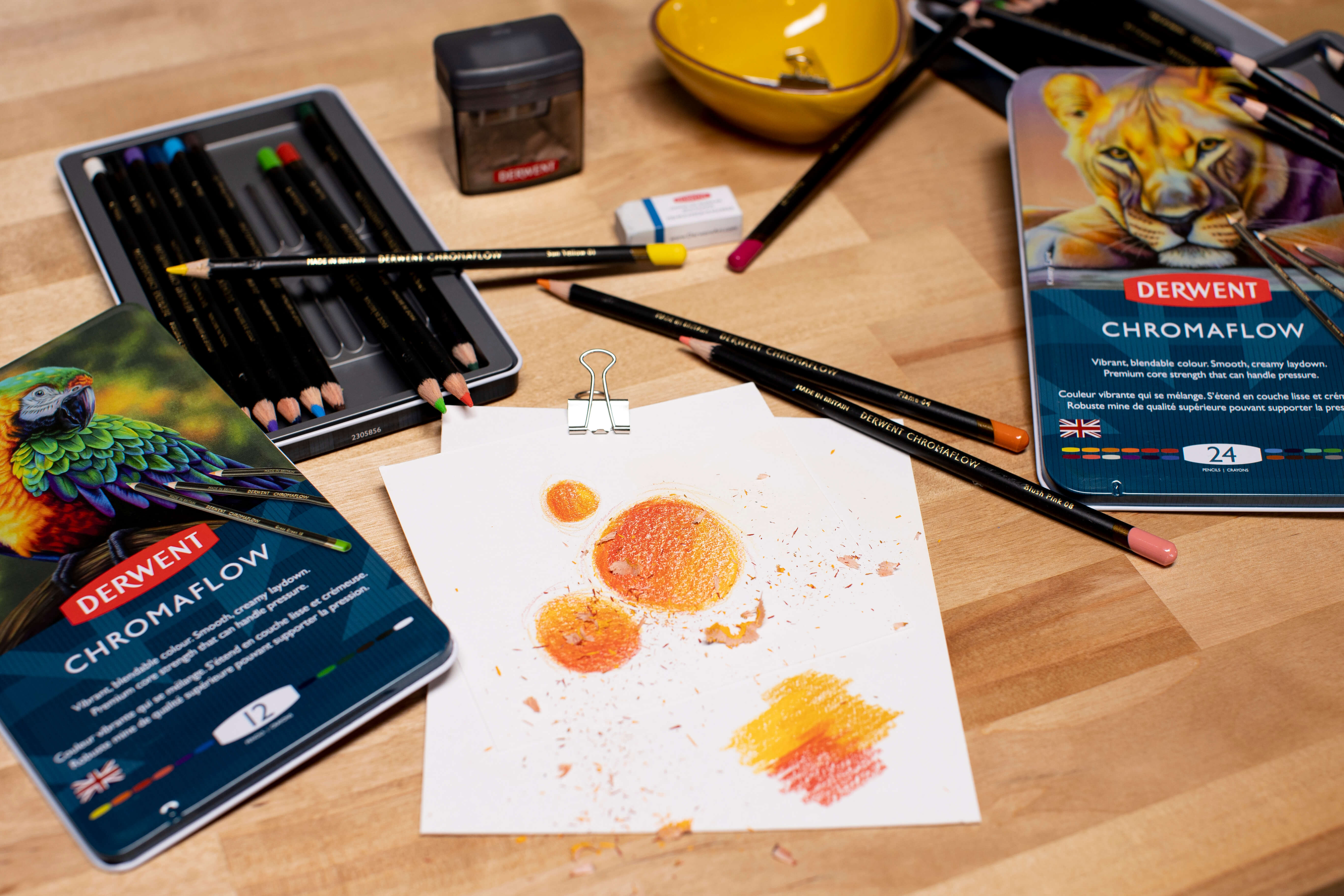 Chromaflow pencils are suitable for pencil techniques, including blending and layering.
The smooth texture makes it easy to build layers, blend and lay down colour quickly.
The 12 and 24 set comprise a bold colour palette for striking work.
Due to the rich pigment, colours are vibrant and stand out when used on dark as well as light paper.
The pencils are highly blendable which increases the colour spectrum available from these sets.
Chromaflow is erasable so you can create highlights in your work.
Are Derwent Chromaflow Pencils Lightfast?
Specific lightfast ratings for these pencils are not published but they have been tested to perform comparably to other branded lightfast products in a similar price range. The lightfast performance is also similar to other highly-pigmented products within the Derwent range of professional quality pencils.
However if fade-resistance is one of the most important factors when choosing your pencils we would recommend the Derwent Lightfast range as every pencil in this collection is guaranteed not to fade for 100 years.
Where are Chromaflow pencils made?
Chromaflow pencils are manufactured in our Derwent factory based in the Lake District, UK.
Is Chromaflow oil or wax-based?
Derwent Chromaflow is a wax-based pencil.
What size is the pencil core?
The Chromaflow pencil core is 3.5mm.
How many colours are in the Chromaflow range?
Chromaflow has a range of 24 carefully selected shades in rich and vibrant colours.
Are there plans to bring out a wider range of colours?
There are no immediate plans to extend Chromaflow beyond the current 24 colours we have in the range but we are always keen to hear artists feedback on the products including requests for additional colours.
Will Derwent Chromaflow pencils be available to purchase in single colours?
There are no current plans to make Derwent Chromaflow pencils available as single colours.
Where can I purchase Derwent Chromaflow from?
You can purchase the Tins 12 and 24 Sets directly from online retailers and selected craft stores.
Who created the artwork on the tins of Derwent Chromaflow?
The artwork was created by Kinsey Lane, an artist based in the US.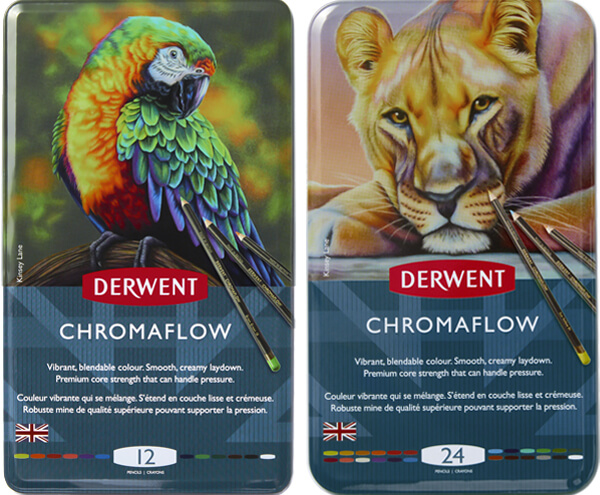 Why have you used different commissions on the tins for the same range?
The different tin commissions reflect the different colours available and styles that can be achieved using Derwent Chromaflow. The tin also clearly reflects the difference between the 12 and 24 tin, so it is more easily differentiated.
How do Chromaflow pencils compare to Academy Colouring pencils?
Chromaflow are smoother and more vibrant than Academy they will blend and layer in a different way. Chromaflow will also cover a larger area more quickly.
How do Chromaflow pencils compare to colour pencils in Derwent's Professional Quality range; Coloursoft, Procolour, Lightfast?
Procolour: Chromaflow are softer than Procolour and will layer and blend differently. Procolour are more suited to detailed work, have greater point strength, wider core and large colour range.
Coloursoft: Both are soft and smooth however Coloursoft have a softer texture and lay down is different. Coloursoft is a larger diameter pencil and therefore builds up colour more quickly. Coloursoft is a great colouring pencil and has a much larger range of colours. Chromaflow mixes well to integrate colours.
Lightfast: Lightfast have a larger and stronger pencil core. They are 100% lightfast with a soft and creamy texture. Lightfast is our only oil-based pencil which can achieve paint like affects and has 100 colours in the range.
Can I use Derwent Chromaflow with my other Derwent pencils?
Yes, Derwent's Chromaflow range has been formulated to be compatible with other Derwent pencil ranges. They especially work well with Derwent Metallic and Coloursoft Pencils.
What are the most similar competitor products in the market?
The nearest competitor product in the market is Prismacolor Premier however all pencil brands perform differently due to the difference in the formulations.
Are Derwent Chromaflow pencils vegan?
Our Chromaflow range contain no animal derived materials/ingredients but we cannot guarantee that the raw materials were not tested on animals.
Are Chromaflow Pencils safe to use?
All our pencils are made with ingredients that are safe to use and comply with ASTMd-4236 standards.
What sharpener should I use with Derwent Chromaflow pencils?
They will work well with most sharpeners. We would recommend:
What Erasers should I use with Derwent Chromaflow?
They work well with most erasers, they worked particularly well with the following Derwent erasers:
What paper should I use with Derwent Chromaflow pencils?
Chromaflow work well on all types of paper, in testing they worked particularly well on Derwent Watercolour paper (find here) which has a smooth surface.