What are Procolour pencils like to use?
Derwent Procolour pencils are strong, smooth, clean, colour pencils, with highly pigmented colour laydown. There is no dusting, chipping or smudging of the product and you can achieve excellent gradation from very light to strong.
Is Procolour oil or wax-based?
Derwent Procolour is a wax-based product but when used it has a covering like oil.
What size is the pencil core?
The Procolour pencil core is 4mm.
How many colours are in the Procolour range?
We have a range of 72 carefully selected shades in rich and vibrant colours.
How much does Derwent's Procolour cost?
Where can I purchase Derwent Procolour from?
Who created the artwork on the tins of Derwent Procolour?
Are Derwent Procolour Pencils Lightfast?
Is Procolour similar to any other Derwent pencil ranges?
Can I use Derwent Procolour with my other Derwent pencils?
Yes, Derwent's Procolour range has been formulated to be compatible with other Derwent pencil ranges.
What techniques can I use my Procolour pencils for?
Our Procolour pencils are suitable for a wide range of pencil techniques. As the product has a strong point it can be used for finer detail work but also easily lay down large areas of colours. Cross-hatching is also possible due to the sharp, strong point.
The pencils are also suitable for layering and after 12 layers you get excellent coverage and a smooth finish.
Procolour is erasable so you can create highlights in your work.
As the pencils are very pigment rich, they have a vibrancy to the colours so really stand out when used on black paper.
Can I digitally reproduce my artwork?
Procolour is ideal for its digital reproduction quality. We struggle to tell which is the real artwork and which is the print!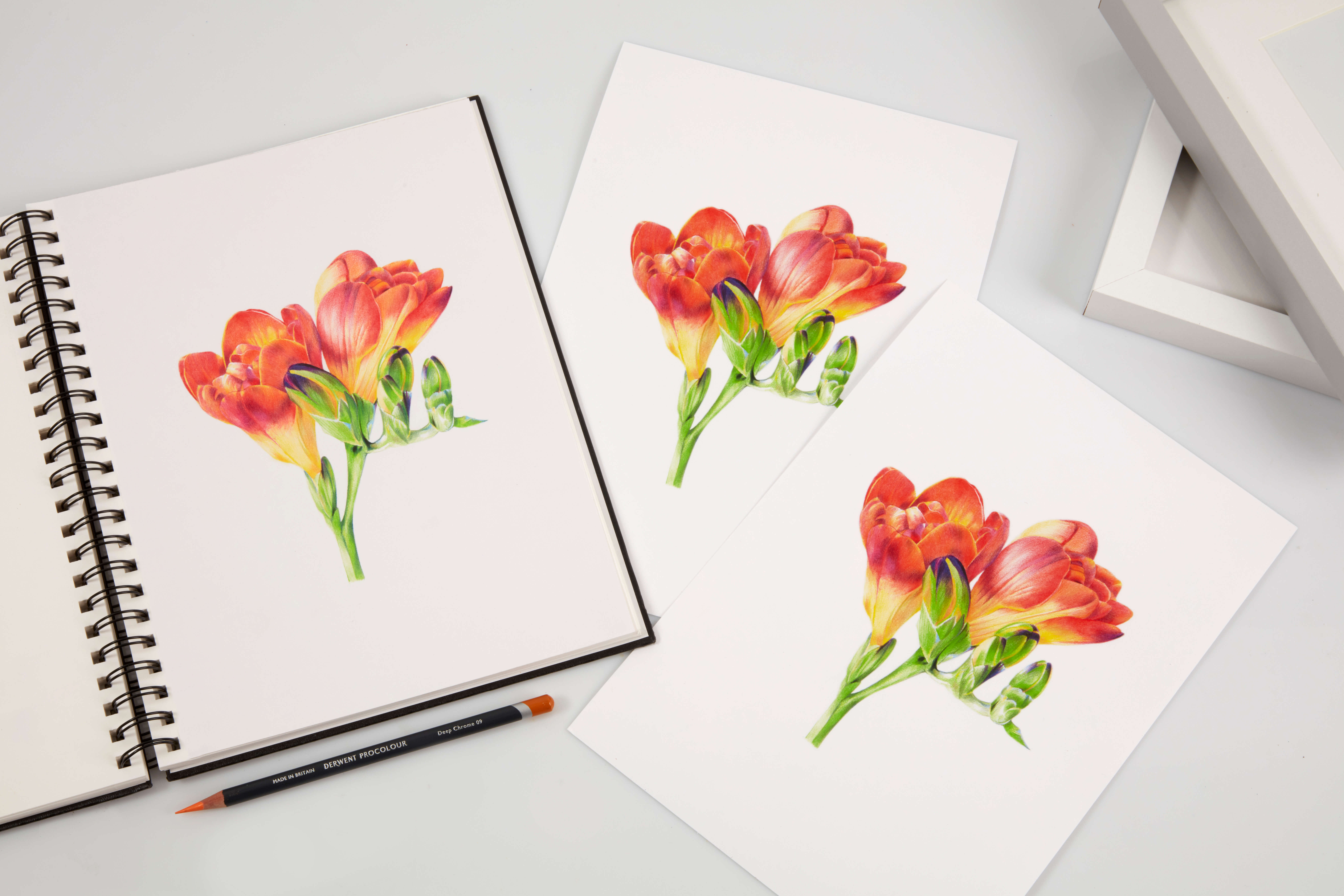 Do you have any project ideas for using Procolour?
Yes, we do. Brand ambassador Judith Selcuk has created this easy to follow step-by-step guide on drawing Freesias with Procolour (image above). View the project here.
Can I blend Procolour pencils?
Are Derwent Procolour pencils gluten free?
All our pencils are gluten free and free from wheat allergens and dextrin.
Are Derwent Procolour pencils vegan?
Our Procolour range contain no animal derived materials/ingredients but we cannot guarantee that the raw materials were not tested on animals.
Are Procolour Pencils safe to use?
All our pencils are made with ingredients that are safe to use and comply with ASTMd-4236 standards.
What sharpener should I use with Derwent Procolour pencils?